I absolutely love
this
Cranberry-Pumpkin Seed Trail Mix recipe from Whole Living.
It is a wonderful mixture of almonds, walnuts, pumpkin seeds, cranberries, raisins. I must have made this at least 4 times already since discovering the recipe through Whole Living's
2012 Whole Living Action Plan
at the beginning of January.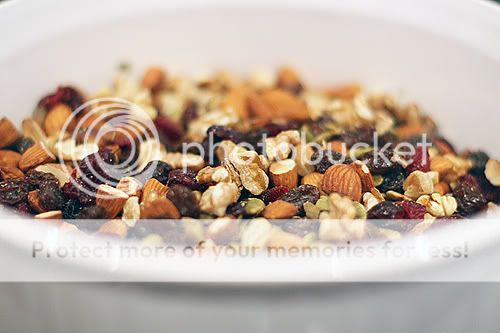 This mixture is so good!
The recipe calls for toasted almonds and walnuts, so toasting in the oven I did.
The recipe also calls for toasted pumpkin seeds, so yep, you guessed it...toasting in the oven I did. :)
This is such a great 'go-to' snack when the hunger cravings hit.
Cranberry-Pumpkin Seed Trail Mix
1/2 cup dried cranberries
1/2 cup chopped toasted almonds
1/2 cup toasted pumpkin seeds
1/4 cup toasted walnuts
1/4 cup raisins
Combine cranberries, almonds, pumpkin seeds, walnuts, and raisins. Store in an airtight container for up to 1 week.
Enjoy!