White. So clean. So fresh. So crisp. I don't know what it is about using a white palette in home decor, but I just love it. It looks so inviting. When the kids get (much) older, I will definitely be going white! But right now, it's just not practical in my house! :) For now, I can just look at some lovely and inspiring pictures.
I love this dining room table. It has such an elegant and cozy feel to it. That chandelier above the table is beautiful. Loving the white wash floors too.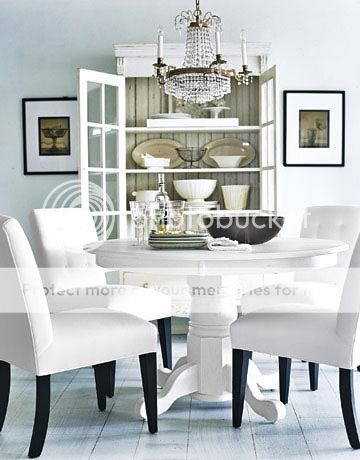 How gorgeous is this? I think I'd feel like a queen lying down on it! I'm also loving all the windows and how much light comes through them.
Love all the cabinet space in this kitchen. I also love how the dark floors make such a dramatic impact on the all white kitchen.
This mirror is so beautiful and elegant.
This room is so cozy and inviting. A great room for entertaining with family and friends.
I love the round mirror. The yarn pom-poms in the clear glass jars are fantastic. I'll have to try that.
I had to add this picture as I love the turquoise walls contrasted against the white furniture. And yes, I love the color turquoise.
This room looks like a wonderful sitting room. Great to relax and read a good book.