The other day I was shopping at Costco (*note to self, I really have to stick to my grocery list, because I can end up spending way too much $$ there!) and I came across a HUGE bag of limes.
There were 26 in a mesh bag (yes, I counted them) for $3.99. I thought that was a steal of a price because at the grocery store they are often 2 for $1 or the best price I've seen is 4 for $1, which for 16 of them would be $4. So at the best price (less a penny) I would be getting 10 more!
So now the question is, what in the world do I do with all these limes besides adding them into my water? :) I searched for different recipes on the internet and here are some ones I would love to try.
Lime and Lemonade
A cool and refreshing drink in the hot summer heat. I love the combination of lemon and lime together.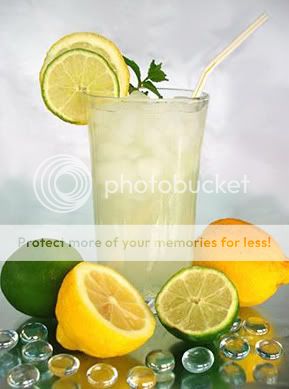 Chicken Satay
These skewers of yummy chicken goodness would make a tasty appetizer. It would also taste so good on top of a salad.
Caribbean Chicken Wings
I love chicken wings and the seasonings in this recipe sound so, so good.
Chipotle Shrimp Taco with Avocado Salsa Verde
This looks so good...shrimp and avocado infused with lime juice, wrapped in a soft tortilla shell? Yum!
Chicken Enchiladas with Roasted Tomatillo Chile Salsa
I love enchiladas too. I love Mexican food! :) And the Tomatillo Chile Salsa sounds sooo good.
Gold Medal Sizzling Fajitas
What another Mexican dish? Did I tell you I love Mexican food? :) Nothing like fajitas (and check out that avocado!)
Key Lime Cheesecake
This cheesecake looks scrumptious. I can just taste the combination of sweet and tart together.
Cranberry Lime Bars
Cranberry and lime sounds like a fantastic combination.
Fresh Cream Cheesecake with Summer Berries
This looks like such an interesting cheesecake recipe. I don't think I've seen one like this before. Looks yummy, for sure.
Lime Italian Ice
This looks like a refreshing treat that the kids would love!
Raspberry Sorbet
Another cool and refreshing treat that looks so good! I know my kids would love this one too!