I love looking for inspiration to decorate my kid's rooms. These photos are no exception. There is ALOT of inspiration here!
I love the color scheme of this room. I love the chandelier, the floor to ceiling bookcases on either side of the bed, and the silhouette pillows. Gorgeous!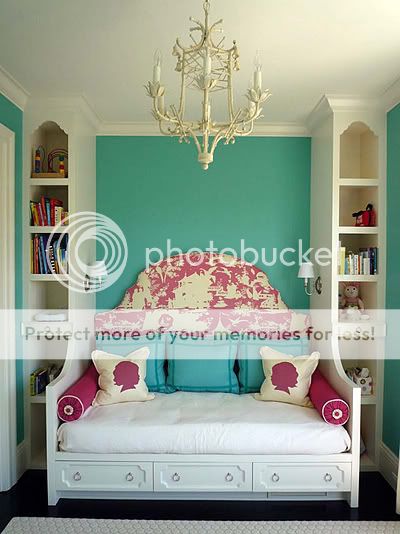 The non-tradtional bunkbed type set-up in this bedroom is so cool. The touches of color work so well in this predominantly brown and white room.
The headboard for the bed is absolutely beautiful! The little daybed on the right side is perfect for sleepovers. I love the color scheme...pinks, orange, grey, green and white. Hmmm...some wall print color inspiration! :) I adore how the leaf decals on the wall match the pillow and headboard pattern.
The colors in this room look so great against the bright white floors. The frog pillow on the bed is so adorable!
What a room for a superhero fanatic. The mural painted on the wall is fantastic. I love the pillow cases and the lamps and the brick wall on the right side! Awesome!
This bedroom is so bright and cheery! I love the red carpet with white dots. So striking! The large chicken standing on the table is pretty cute too! :)
I love the canopy on the top bunk and the curtains on the bottom. So fun!
This bedroom scheme is perfect for the sports fanatic! I love the bedding, the pillows and especially the pennants hanging across the windows.
I love the rustic feel of this bedroom! That ferris wheel storage contraption is genius and so unusual. Fantastic! Love the works of art to the side of the window. I also love the support that the mattress is on and how it extends beyond the mattress. That area would be perfect for all of my son's stuffed animals. They probably take up about 50% of his bed! With this set-up the stuffies can sleep at the end of the bed! :)